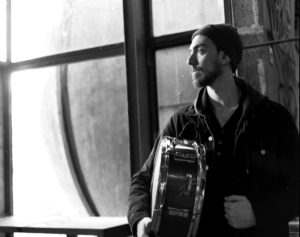 Jazz drummer, born in 1992.
Studied drums with Victor Lewis, Gregory Hutchinson, Jeff Ballard, Mark Guiliana, Gianni Di Renzo, John Wooton, and Fabrizio Sferra.
Graduated from Roma Tre University in modern literature and graduated from Santa Cecilia Conservatory of Rome in Classical Composition & Didactic of Music (master's degree).
From his arrival on the national scene in 2012, Alessandro made music that grew from an uncanny talent to hear the future and a headstrong desire to play it. At his age, he already collects many important collaborations with international jazz musicians all around the world as Mark Gross, David Kikoski, Joel Holmes, Essiet Okon Essiet, Benito Gonzalez, Freddie Hendrix, Janusz Muniak, John Taylor, Eve Cornelious, Gregory Boyd, Abraham Burton, Rick Germanson, Bruce Barth, Jon Davis, Antoine Drye, Benny Benack III, Reinier Baas, Rotem Sivan, Alexi Tuomarila, Carlo Conti, Maurizio Giammarco, Ares Tavolazzi, Fabio Zeppetella, Fabrizio Bosso, Andrea Rea, Daniele Sorrentino, Roberto Tarenzi, Rodolfo Maltese and many others.
Has played in Italy, The United States, Mexico, Russia, Germany, Belarus, Ukraine, England, Poland, Lithuania, Estonia, Romania, Latvia, Finland, Belgium, and Spain in Festivals, Theaters, Philharmonics, and Jazz Clubs as Pori Jazz Festival, Philharmonia of Odessa, Ronnie Scott's Jazz Club, Jazz Standard NYC, Wally's Café Boston, Moscow International House of Music, Ploiesti Jazz Festival, Zinco Jazz Club, Siena Jazz, El Junco, B-Jazz Festival, B- Flat, Schlott, U- Muniaka, Omsk Philharmonia, Fara Jazz Festival, Drama Theater of Brest, Tuscia Jazz Festival, Gregory's Jazz Club, Be-Bop Jazz Club, Alexanderplatz Jazz Club, Edelweiss, Yorckschlösschen, Rome Jazz Festival, International Jazz Day Rome 2014, Minsk Philharmonia, Oku Theater of Grodno and many others…
Educator in jazz drums as a Traineeship program for Metropolia University of Applied Science (2018-2019) and World Music School in Helsinki (2018-2020).
Gear & Endorsements

Alessandro is an official endorser of Saari Drums and Cymbal & Gong and Werkens.
Saari Drums Bop Set (Finnish Birch): BB 16×12 FT 14×14 TT 12×8 SN 14×5.
Cymbal & Gong "Holy Gray" 20″, 20″ Flat, 19″, 14″ HH.